15 September 2011
Cisco have recently marked as end of sale the CP-7911 handset which is a "work horse" handset for many customer deployments. The 6921, featuring a headset port and full duplex speakerphone which the 7911 didn't have, seems to be an attractive option however there are a few of restrictions to be aware of.
1. The 6921 whilst being a two line phone does not support two calls per button. The second channel can only be used for transfer or conference. This is unlike the way that the 7911 operates which provides two calls per button.
2. DND does not work on the handset when mapped to a softkey. This is an issue that is known by Cisco and there is a workaround of setting it to the 2nd button. However, if you want to use the 2nd button as a second line, you can't use DND. This does not sound great to us.
3. Auto Answer on headsets. Other Cisco handsets that support auto answer on headsets provide the ability to play a "zip" tone on auto answer so that the agent knows a call has just arrived. The 6921 does NOT support this tone and we don't know why. It can seemingly play the tone for internal calls, however it does not play it for external calls. Cisco TAC confirm that this is expected behaviour however we haven't been able to find any documentation that reflects this. It also seems like a very strange restriction. Net result, we'd be loath to recommend 6921s with headsets if you want auto answer.
So all in all, be careful how you deploy 6921s. They are not as attractive as they appear at first glance.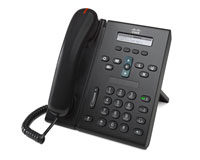 Barry Hesk